Airbrush Hyperrealism Wildlife (Javea, Spain)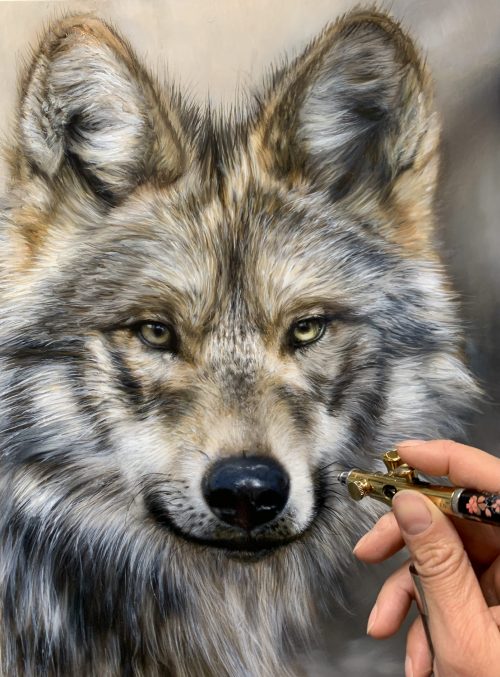 During our workshops you will be trained and guided intensely by full time artist Marissa Oosterlee.
She has over 15 years of experience in teaching and keeps evolving on the highest level possible. By breaking complicated steps and techniques down into easy to understand and follow lesson blocks, everyone is able to gain 100% more confidence and capability. In 4 days you will learn everything from sketching, observing techniques, proportions, textures. details, values and how to use color. Airbrushing holds many secrets, but Marissa will explain every possible technique to give the maximum freedom, when creating a painting. Free handing is her main approach but using shields and several tools are shown and applied as well, so you'll learn exactly when to use them and when not. Beginners are more than welcome and can be prepared for the workshop, one day prior to the course for an additional fee of 100 euro from 12-16h. This ensures you a good tempo and understanding all steps during the workshop.
During the workshops we provide a good lunch, beverages, paint, a workstation including air and hoses, a paint surface and materials needed to apply certain techniques. You can also rent a professional airbrush for just 10euro a day, all well maintained and in a "like new" condition.
The main language will be English but we can speak fluent Spanish, Dutch, German, Italian.
The area is enchanting all year around, winter season is between 12-23 degrees Celsius, spring/summer between 20-30 degrees. Beaches, mountains and forests are a must see, so if you like to stay a couple more days for holiday we can highly recommend several stunning viewing points and things to do or see. It is also a culinair town, with over 300 lovely restaurants and bars. The mountain Montgo provides a micro climate in our town Javea. This enables painting throughout the year without a problematic heatwaves or cold fronts.
The closest airport is Alicante (1 hour), it provides shuttle busses and taxi's or rental cars. Valencia is a little further away but is still very doable, about 1.5 hours from our studio.
For B&B we can recommend a lovely place close to us, on walking distance, but of course there are many other accommodations around. including a big comfortable camping (also with chalets).