Description
IWATA CM SB 2 CUSTOM MICRON AIRBRUSH – RED BOX EDITION includes:
– N.1 CM SB CUSTOM MICRON Airbrush
– N.1 Lubrificant 1/2 OZ / 14 ML SUPER LUBE
– N.1 Pistol Grip Moisture Filter
The Iwata Custom Micron new Generation!
The airbrushes of the Custom Micron Series enable delicate and accurate spraying that all elite professionals demand. Our pursuit of the highest levels of performance and atomization has resulted in an extremely high quality finish. The airbrushes employ a nozzle head system that allows high atomization even at low pressures using cutting-edge technology. In the final stage of production, experienced engineers conduct a spraying test for every airbrush to be shipped. Only those proven to meet our stringent criteria are put on the market.
What's New on the Micron SB-2?
 Re-designed trigger: Higher than the previous version, improved ergonomy.
Cap Dock (Patent-pending): Attach Crown Cap to Cap Dock during painting job so that you will not lose it!
Needle Chucking Guide with Auxiliary Lever: Combined Needle Chucking Guide and Auxiliary Lever for easy maintenance.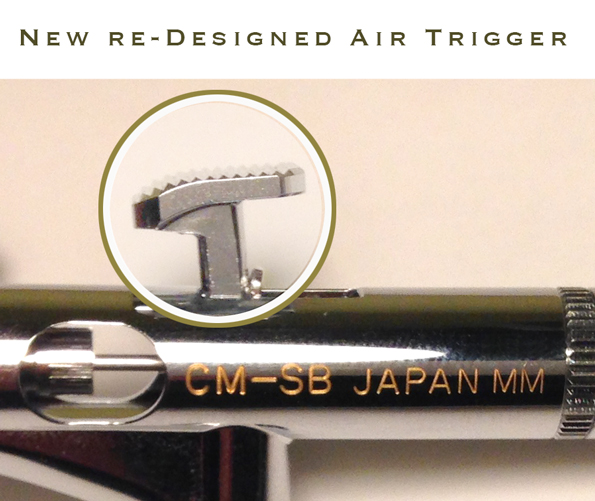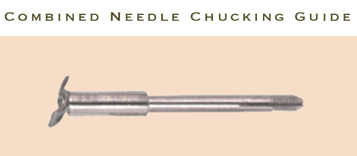 The CM-SB 2 is the most versatile in the Custom Micron range because you can attach small side cups that hold a few drops of paint through to suction bottles up to 2oz (56ml). This is ideal when frequent colour changes are required. Also you may view your close-up detail work directly over the top of your airbrush without a gravity bowl in way of the view. Click here to view cups and bottles to fit the CM-SB
Custom micron head system
 The nozzle base, which is different from the conventional type of head, has three holes for air passage, taking into consideration the flow of compressed air. This causes the air to be dispersed, thereby enabling fine atomization of the spray. The nozzle head system, which consists of four parts, undergoes repeated spray testing and fine-tuning until the spray characteristics are as perfect as possible. The nozzle is available in two bore sizes: 0.18 mm (smallest) and 0.23 mm. Enjoy drawing fine lines with our superb airbrush.
Scaled preset handle
Every Custom Micron Series airbrush comes with a scaled preset handle. The handle enables the paint flow to be adjusted. With the scale, it is always possible to set the paint flow to the same value.
0.18mm nozzle for the finest detail
Hand-fitted and tested matched head system
Side-feed (comes with 1/8oz (3.5ml) cup for right or left-handed use)
Dual-action
Internal-mix
Ultra fine detail to 3/4″ (0.18mm to 20mm) spray pattern
Removable head assembly for easy cleaning
Easy Flat-High top trigger
Pre-set adjustment handle
Crown cap
Highly polished, hardened stainless-steel needle for exceptionally smooth transition from detail to mid-range spraying
Optionals:
It is also possible to buy additional needles, nozzles and spare parts:-
CM SB Needle: click here
CM SB Nozzle: click here