Description
NEW** YOU CAN NOW BOOK THIS CLASS as Watch Back HD version on Facebook including dedicated guidance in our support group with downloads and feedback. You will now receive a 100 euro discount on the Live sessions price! You will be able to watch back all sessions and ask any questions you have in our group.
Have you ever wondered how those crazy real looking images exist? Well, you can learn all the secrets behind this trade now, under guidance and intense, clear demonstrations by Marissa Oosterlee, Online.
You can now follow the recorded live lessons by Marissa on a close up Female portrait, from start to finish.
• Even if you are a total beginner with oils and brushes, you will be able to produce a stunning portrait by following all instructions from the start till the end.
• To be guaranteed of successful progress, you can upload your steps in a dedicated support group where Marissa will guide you to your highest level.
•This project will be closing for subscriptions eventually next year and from there it will  last 4 months after closing subscriptions online.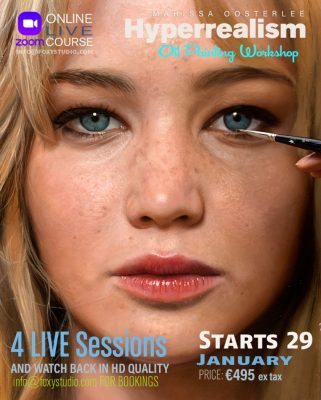 You will learn how to work with materials, paint in layers to obtain depth and volume, work with  values, hues, the right intensity of colors, textures, details and so much more, is all covered in this class.