The Marissa K33 Needle by Zsolt
MARISSA

K33

Fluid Needle 0.18mm & 0.23 mm 
After years of research and extensive testing, we are proud to announce the new K33 Marissa Fluid needle. Our collaboration with an amazing team at the University of Brescia, guided by Professor Zsolt Kovacs, has allowed us to create awesome technical jewel!
A perfect balance between strength and performance, this strong and resilient needle features a special smooth surface, superior durability, and excellent flow with much less tip dry. Where others have failed miserably, we never gave up our goal to create the best needle in the world. We are proud to offer a real product, made by people with the right knowledge and passion for technologic innovation. 7 different processes are applied to the needle, every piece has been tuned and tested one by one by experts.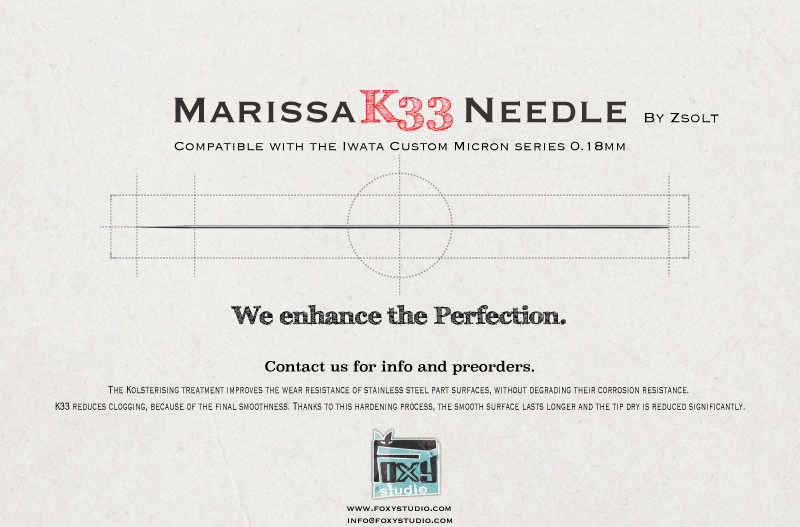 The needle has been extensively used by Marissa during all her paintings made since November 2012, and she is still using the same needle daily. There is no wear, no scratches, and it is still perfectly smooth after years of service!
Our students had the opportunity to use this needle, and have been expressing their delight with comments such as "no tip dry with the colors," and "much better and longer performance when spraying white," and "easy to clean." They have praised the performance as being very accurate and reliable. The K33 is available for the Iwata Custom Micron.
Many people are trying to create something similar, i would save them lot of money and frustrations by just giving an advice, let people with KNOWLEDGE doing their job. There are so many passages, processes and things to be taken in consideration. In the past, Zsolt has tried many different materials and coatings to create a perfect needle. All of these tests were classified as FAIL, broken nozzles, irregular spray pattern and many other aspects that were not working properly. Since we experimented with the K33 treatment and the other 7 processes to create a strong surface, especially on the tip which is the most important part of the needle. 
One more thing…
Together with the same team, a limited series of a "special" Custom Micron airbrush is in the development and will include the K33 needle and other exclusive modifications. We will soon be making more announcements about this promising project!
Marissa K33 Needle 0.18mm by Zsolt