Description
Museum Series Claybord™
• Ultra-smooth absorbent clay ground
• Accepts more mediums than any other surface
• One of a kind workability with paints and artist tools
Many Fine Art Uses:
• Excellent for use with India, pigmented and alcohol inks
• Also use with egg tempera, acrylics, collage, pencil, pens, airbrush, photo-transfers, casein, watercolor, gouache and mixed media
• Bonds well with adhesives to mount paper and fabrics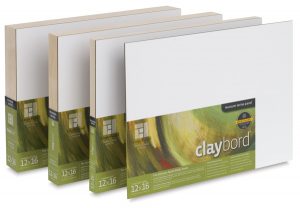 Museum Series Claybord™ is made using 1/8″ true artist hardboard and features Ampersand's simply amazing kaolin clay ground formula similar in paintability to the clay gesso grounds used during the Renaissance. The surface is sanded to an ULTRA-smooth, highly absorbent finish so your paint colors remain true and brilliant. Work the surface by thinly applying paint or ink, then remove it, reapply it, even scratch through it to add contrast, texture and fine details. Claybord is a favorite of both fine and graphic artists. Only Ampersand builds their cradles by hand with premium grade 13-ply birch plywood for maximum stability and a clean, finished look from edge to edge. Choose from 3/4″, 1.5″ and 2″ Deep, all made in the USA.
About painting on Claybord™
Apply paint and ink using brushes, sponges, palette knives, paper towels, airbrush, technical pens and painting tools. Claybord is also an excellent printing surface and can also be used for image transfers.
Using Claybord and…
Acrylics
Airbrush
Casein
Egg Tempera
Inks
Oils
Printmaking
Graphic Media & Calligraphy
Graphite & Colored Pencils
With Claybord, paints and inks can be manipulated to vary tonal value, create detail and to develop highlights and correct mistakes. Various artist tools can be used such as Ampersand scratchboard tools, hobby knives, razor blades, etching tools, sand paper, oil-free steel wool, and electric erasers. Claybord's clay coating allows for the use of sgraffito techniques to cut into the surface and re-expose the white clay ground. The coating is 7 to 10 dry-mils thick allowing for multiple cut-ins or erasers. The smooth finish and the absorbency of the clay ground allows the use of an abrasive like oil-free steel wool or sand paper to remove pigment without damaging the finish. Claybord's inventor Charles Ewing demonstrates his process for using India inks in an additive and subtractive process here.