Description
Unleash the power of Medea Airbrush Cleaner in any direction!
The invertible 360 nozzle releases Medea Airbrush Cleaner in a solid steam or a fine spray right-side up or upside down for airbrushes, work surfaces and studio tools.
16oz – 480ml 360 spray bottle
POWER FLUSH
• Use the powerful stream setting to quickly flush and rinse the airbrush cup, fluid cavity or siphon joint.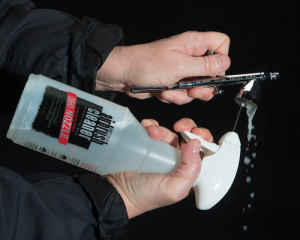 STUDIO CLEANING
• Use the spray setting for cleaning art materials, airbrush bodies, work surfaces and studio tools.