Description
6 empty pens can be filled with any Acrylic Paint.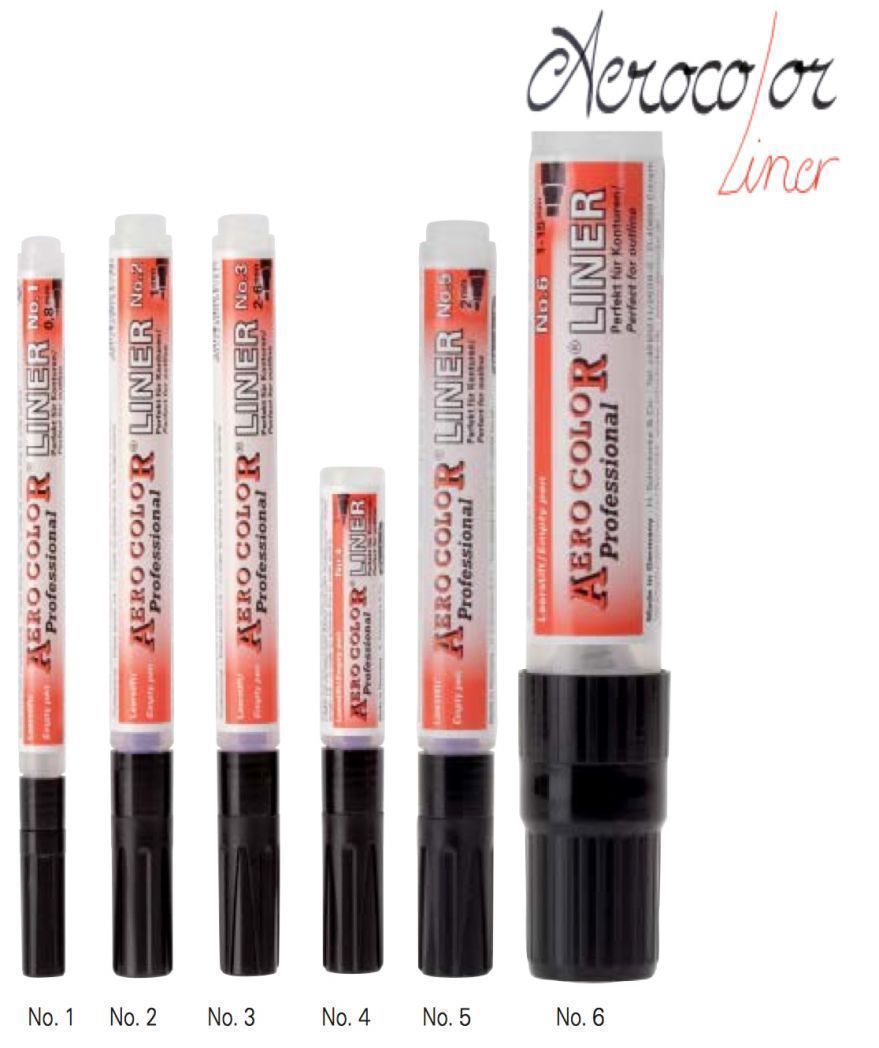 Four different AERO COLOR® Professional LINER already allow the fast and easy application of the 36 lightfast and water proof colour shades of AERO COLOR® Professional without using an airbrush. Now there are two further models available.
The empty pens are available in different sizes and different tips. This allows to create easily individual sketches, drawings or signa- tures on diverse surfaces such as paper, canvas, wood, primed metal or primed plastic.
The coloured shades can be mixed with each other, so that the artist only needs some basic colours in order to obtain a wide and colourful selection
How to fill the AERO COLOR® Professional LINER:
• Open and remove the cap and the valve cap.
• Remove the coloured valve
• Fill the AERO COLOR® Professional shade up to a maxiumum
of 2/3 by using an eyedropper.
• Then put the valve pack in place, screw the valve cap and the cap tightly.
• After reassembling and closing, shake the LINER well.
• Shake well the reassembled and closed LINER and press the
tip (gently and with caution) until the colour appears in the tip!
Further useful advice:
When starting, it is advisable to go ahead with caution when exchanging the tips. We recommend you to protect the work- place and to wear protective gloves as AERO COLOR® Pro- fessional dries water-resistant!

Store the tank of the LINER – when dismantled – upright in a jar in order to avoid that the colour or the 2 mixing balls spill out of the LINER.

Activate the refilled LINER on a separate paper – not on your artwork.

The label of the LINER shows a small blank frame where you can note the colour numer.

Individual olours should be mixed before filling into the LINER. For a summary of RAL® colours pls. refer to www.aerocolor.de

Adding about 5 % of AERO Retarder (50 607) slows drying ofacrylic colours and improves the flow properties

Put the cap on the LINER directly after use in order to avoid thedrying of AERO COLOR® Professional in the LINER tip!