Description
This six-piece kit includes all the scraping and abrasive tools needed to create detail and remove ink from Ampersand Claybord and Scratchbord panels.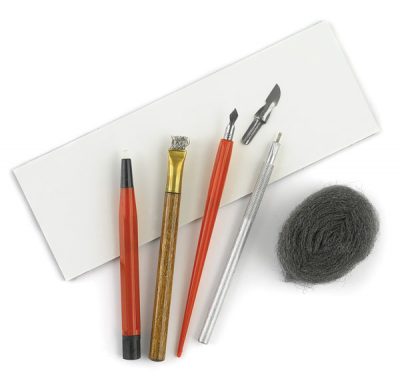 This kit contains two scratch nibs — fine point and curved, with a plastic nib holder, a stainless steelwire brush, a parallel line tool, and a fiberglass erasing brush.
The kit also includes a 4½" × 11″ (11 cm × 28 cm) sample of Claybord
Tools can be used on Claybord, Scratchbord, or scratch art boards and papers.
#gallery-1 {
margin: auto;
}
#gallery-1 .gallery-item {
float: left;
margin-top: 10px;
text-align: center;
width: 50%;
}
#gallery-1 img {
border: 2px solid #cfcfcf;
}
#gallery-1 .gallery-caption {
margin-left: 0;
}
/* see gallery_shortcode() in wp-includes/media.php */