Description
Welcome to the most comprehensive and exciting advanced monochromatic portrait course, "Portrait of a Rockstar," where you will learn to create a stunning portrait of Steven Tyler, the legendary singer of the band Aerosmith!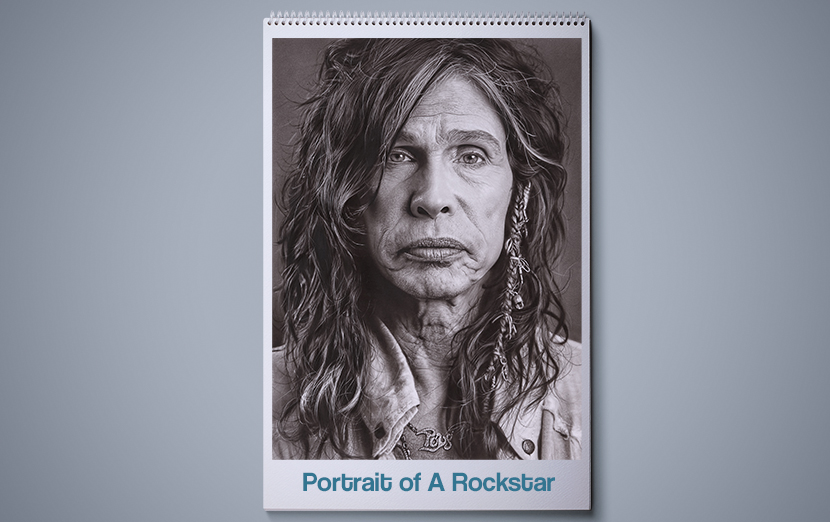 A perfect challenge
Led by the talented artist Marissa Oosterlee, this intensive workshop will take you on a painting journey starting from a pencil sketch.
Every step of the process will be shown in detail, thanks to our multiple camera angles that provide a clean and detailed view of the painting process. You'll be able to watch every step back and forth, something that is impossible in a live workshop.
During this masterclass, you'll learn everything there is to know about painting monochromatic portraits with an airbrush.
Marissa will share her vast knowledge on Portraiture and will teach you everything about values and depth, skin textures, hair rendering, highlighting techniques, and much more, all using only one color and some other little tools! This is an advanced study that will put your airbrush skills to the test and teach you how to work effectively with paint layering and perfect blending tones using transparent colors only.
Are you ready to take your art to the next level? Look no further than our Masterclass.
This is not a simple "Online Course'. This is a Gold Mine of information and insight that you cannot find anywhere else, things that can change your life an as artist.
In this Masterclass we share all our knowledge on painting portraits with an airbrush. The workshop is filled with practical tips and demonstrations to show you every step of the way, watch every step back and fort, this can't happen in a normal live workshop but it's possible in our course!
Working with transparent paint is a challenge, but it's what sets this course apart. There won't be any pre-mixing of colors or opaque tones used, making it more advanced and putting your airbrush skills to the test. But fear not, as Marissa provides clean and exhaustive explanations and demonstrations of each step of the process, making it easy to follow along.
With proper guidance we make sure everyone can follow, no matter the level you are at.
We are not saying it's easy, but with the right information, guidance and practice you can get great results incredibly fast.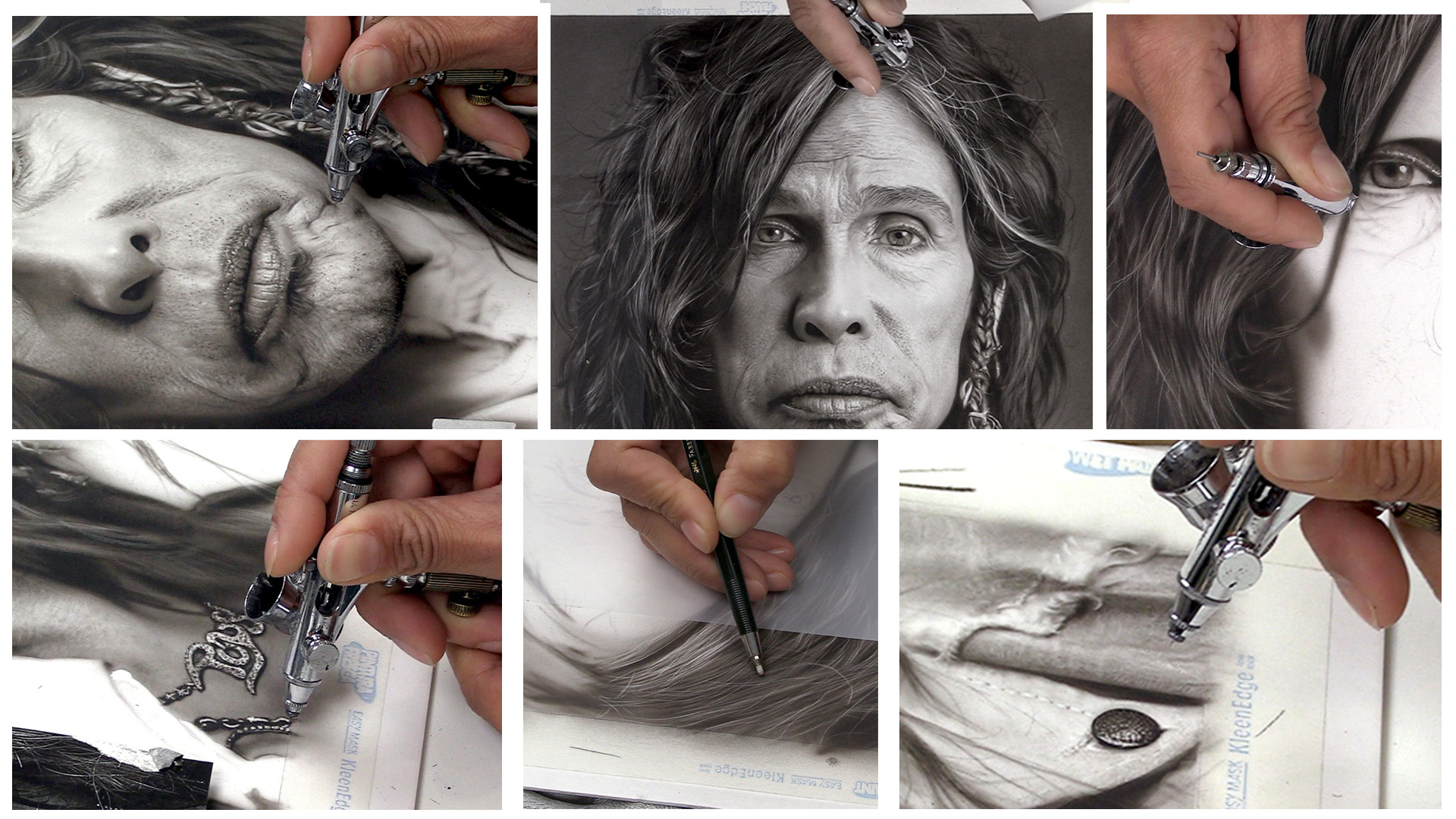 Throughout the course, you'll learn various techniques, such as working with values, mastering skin values, erasing techniques, texturing techniques, and smart use of an electric eraser, among others. You'll also learn to dilute the paint, effective masking and shielding techniques, working in transparent layers, creating intricate skin textures, intense hair studies, mastering transitions with an airbrush, and advanced highlighting techniques.
Over 30 hours of detailed video tuition!
These workshops are designed for every artist out there that likes to Study Realism from Home with professional instructions and guidance.
SUBTITLES AVAILABLE IN: English – Dutch – Spanish- Italiano – French – Germ
Invest in Yourself as an Artist!
Watch the Videos from any Devices.
Our Video lessons are compatible with Smartphones, Tablets, Laptops and Pc.
Weekly Lessons
The lessons are divided in chapters and you will be able to play back and forward as many times as you need to complete your weekly task. You can then upload your image in our closed forum and wait for feedback directly from the Instructor!
We release a new block of Lessons each week, hours of content depending from the level of difficulty. It will require at least double the time to complete the weekly tasks yourself including watching.
We are merely showing a big diversity on handling techniques and materials. This way we will build up your self-confidence and you will no longer feel stuck whenever you are painting something new.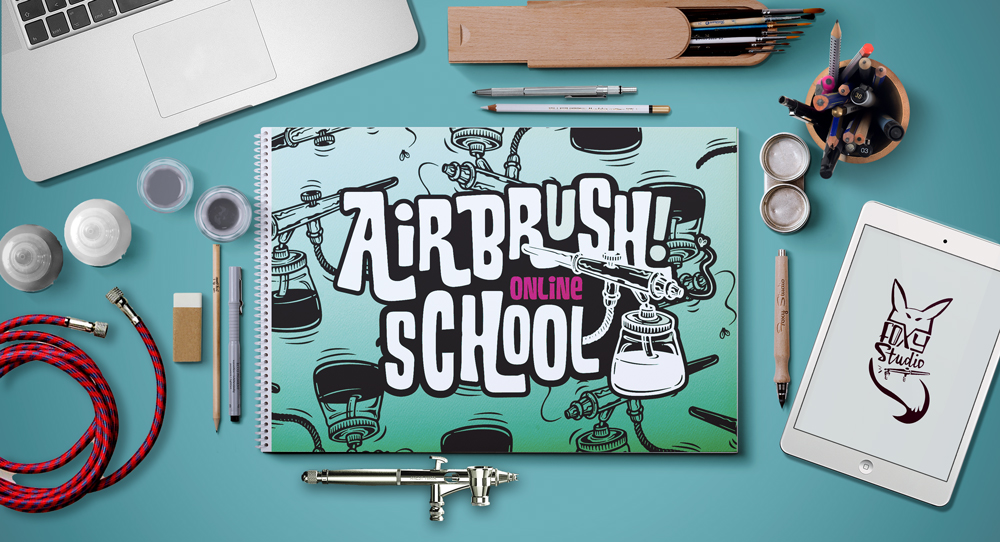 What's More
The value of this course is immense, but it doesn't stop there. As a student, you'll receive an invitation to our private Facebook channels where you can interact directly with Marissa and other students, receive help and feedback, and access other extras in a relaxed and friendly atmosphere. Each progress can be shown and discussed with the teacher, and you'll receive any guidance you need to successfully complete the course. This interactive community holds significant importance, and we are the only online school to offer such great service to our students.!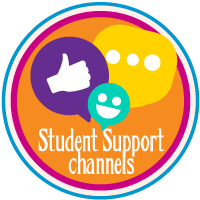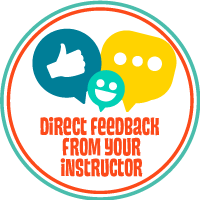 All the techniques shown in this course are useful to any project you want to tackle in the future or implement into your own style.
We provide high resolution downloadable images and airbrush control practice sheets that you can print or have them printed in your favourite copyshop.
In each project you will pick up tips on diluting your paint, adjusting pressure, working with medium, using different tools to create similar effects and results. There is never 1 way that leads to Rome, so we did our very best to show you the ones that are most convenient.
The lessons are divided in several chapters, so that you can study in your own time each week. You can play back the lesson until you get it 100% and then do your magic.
Enrolling in this course will provide you with an abundance of valuable insights and an extensive array of artistic techniques that will enhance your craft significantly. Your artistic abilities will undergo a transformative journey, ensuring you emerge as a distinctively evolved artist. Don't hesitate any longer. Register today to embark on a journey of crafting a breathtaking monochromatic portrait of a legendary rockstar, and relish the gratification and delight that accompany the creative process
*Our honest and direct feedback will help you to improve your results.
*All materials used can be ordered in our online shop, but of course you can replace them for the materials you normally use, and match colours and results as close as possible.
A Special Thanks to Mr. Andy Gotts for the Photo Reference used to paint the portrait, sir you Rock!